With a family history in knitting there was a heart-driven calling for us to create a contemporary knit lab in Athens with the aim to connect new technologies with craftsmaking to bring a fresh vision to traditional knitting. Our team's diverse skillset enables us to merge creativity, artistry and strong technical experience to create memorable knitted products.
Team
Vasilios Fasois
Founder, Senior Knit Engineer

Vasilios is a knit specialist with 40 years of experience in technical knit design, development, programming & engineering. He has worked extensively for high-end fashion brands, sports brands & technical textile companies in Greece, Europe, Asia and the US. He is specialised in advanced knit development for apparel & product collections, programming and also machine & production facility set-up. He has been extensively involved in the development and production of 3D knitted footwear in Asia ,Italy and the US. He has also worked on the making of digitally enabled software solutions for knitting.
Marianna Fasoi
Co-Founder, Project Manager

Marianna holds a BA in Communication & Cultural Management from Panteion University in Athens. She started her carreer working in theater production and project coordination. Her background is the driving force behind an interdisciplinary and creative apporach to knitting. Her aim is to bring design visions to life through establishing a research methodology as well as the strategy through which the process of making can become purposeful and functional to create unique and aesthetically elevated knitted products .
Oliver Hurdman
Knitwear Designer, Programmer

Oliver is a knitwear designer and programmer who studied BA textile design and MA fashion knitwear at Central Saint Martins and the Royal College of Art respectively. As a designer, Oliver has specific focus on digital technologies, examining how they can be utilised further to exploit the true potential of knitwear as a practice; integrating manufacturing and development from the beginning of the design process, and co-designing with machines to create a new high-tech cottage industry.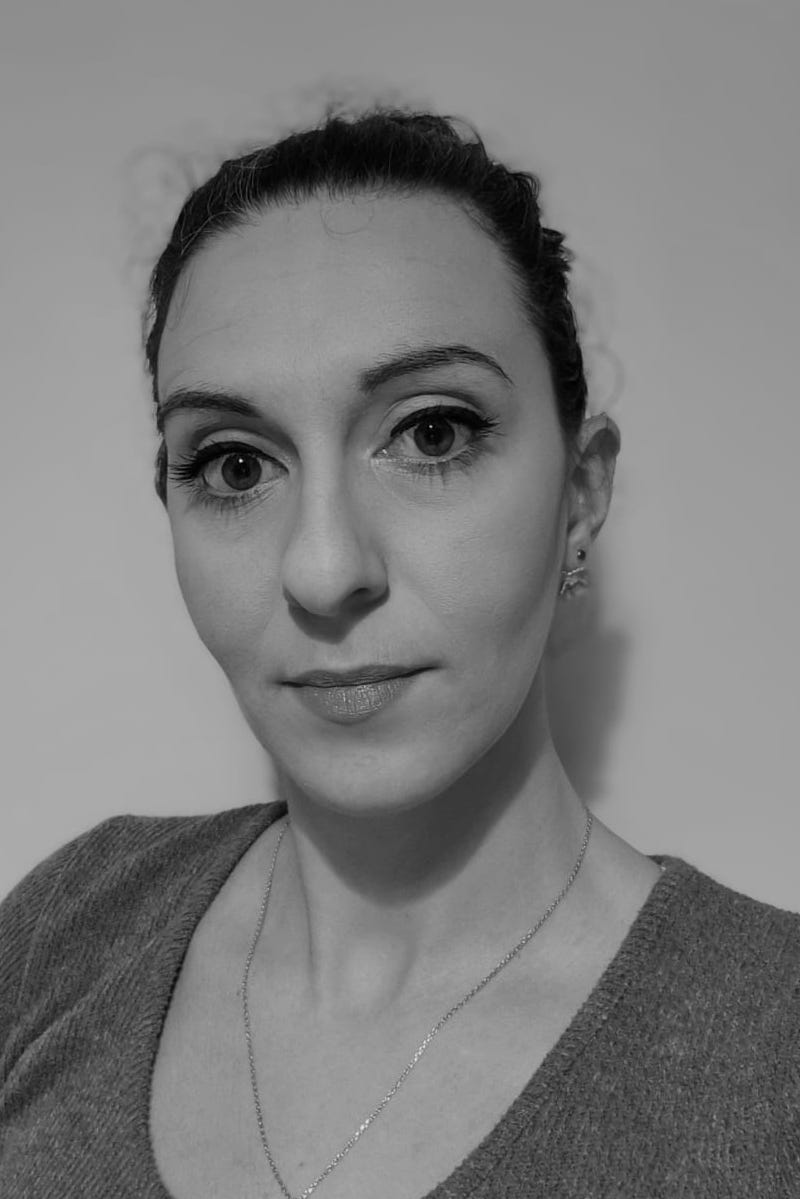 Eleni Balidi
Production Manager , Junior Programmer

Eleni holds a BE in textile engineering from University of West Attica, Athens. She has many years of production experience in woven and knitted fashion accessories, as a production manager and machine operator. Her passion is the development of innovative textiles by using bioethicly composed yarns. Eleni has a specific focus in learning the multiple possibilities of knitting technology and effectively put into practice in fashion, knit products and smart textiles.

Dionysia Papapavlou
Production Monitoring , Assistant Programmer

Diony has a bachelor degree in chemistry, obtained in her hometown Athens. Her love for different textiles and textures and their use in fashion, led her to Roubaix, France, where she continued her studies with a master program in textile engineering at École Nationale Supérieure Des Arts Et Industries Textiles (ENSAIT). She then, did a product development internship at Acne Studios in Stockholm, at the Jersey & Fleece department. The combination of creativity and technicality that knitting offers, is what has led her to AKL.